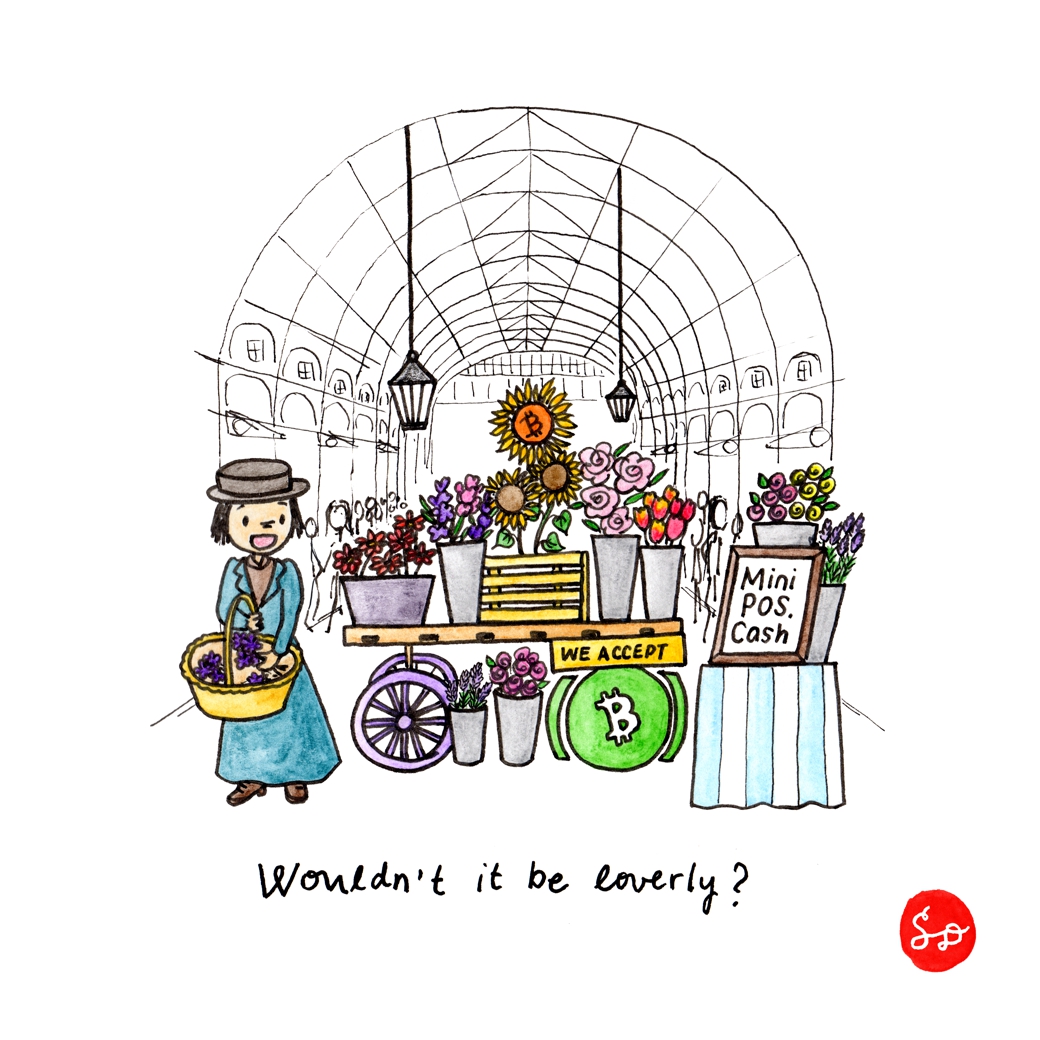 Originally published on Yours.org on April 29, 2018.
27 of #100DaysofSatoshiDoodles
I made the doodle above for the BCH London meetup that took place last week. "Wouldn't it be loverly" refers to the song from the movie My Fair Lady in which flower girl Eliza Doolittle expresses a wish for a better life.
This is not a paid promotion. I just think this MiniPOS thing looks awesome! (POS = point-of-sale)
What is MiniPOS server? Bitcoin Cash MiniPOS server is a simple self-hosted point-of-sale hardware server, intended for use by small merchants and brick-and-mortar stores, that can be operated via any device with a web browser. MiniPOS server allows merchants to accept secure, 0 confirmation, Bitcoin Cash (BCH) transactions in-store, anywhere in the world, with live conversion rates in multiple local currencies. It is a point-of-sale (POS) solution for merchants who wish to accept Bitcoin Cash with the advantages of:
NOT paying a monthly payment processing fee,
NOT paying an automatic % or fee per transaction processed. For example, Square processes all major credit cards at 2.65% per tap, insert or swipe and INTERAC Flash® at 10¢ per payment (limit of $100 per transaction),
peer to peer payments without the need to go through a financial institution (like a bank) or register and give your data to a third party (like Square)
Side note: Currently, Square is the ubiquitous POS solution for merchants in North America, such as Farmer's Market or indie craft market vendors, and many small brick and mortar stores. Square's point-of-sale products are also beautifully designed (and white!) and their marketing is visually appealing. In addition to payment processing, Square has tools for business owners to track inventory, view analytics and more. The tradeoff is that your business data is collected, stored, and used by a for-profit corporation such as Square (if you are interested here is Square's Privacy Policy).