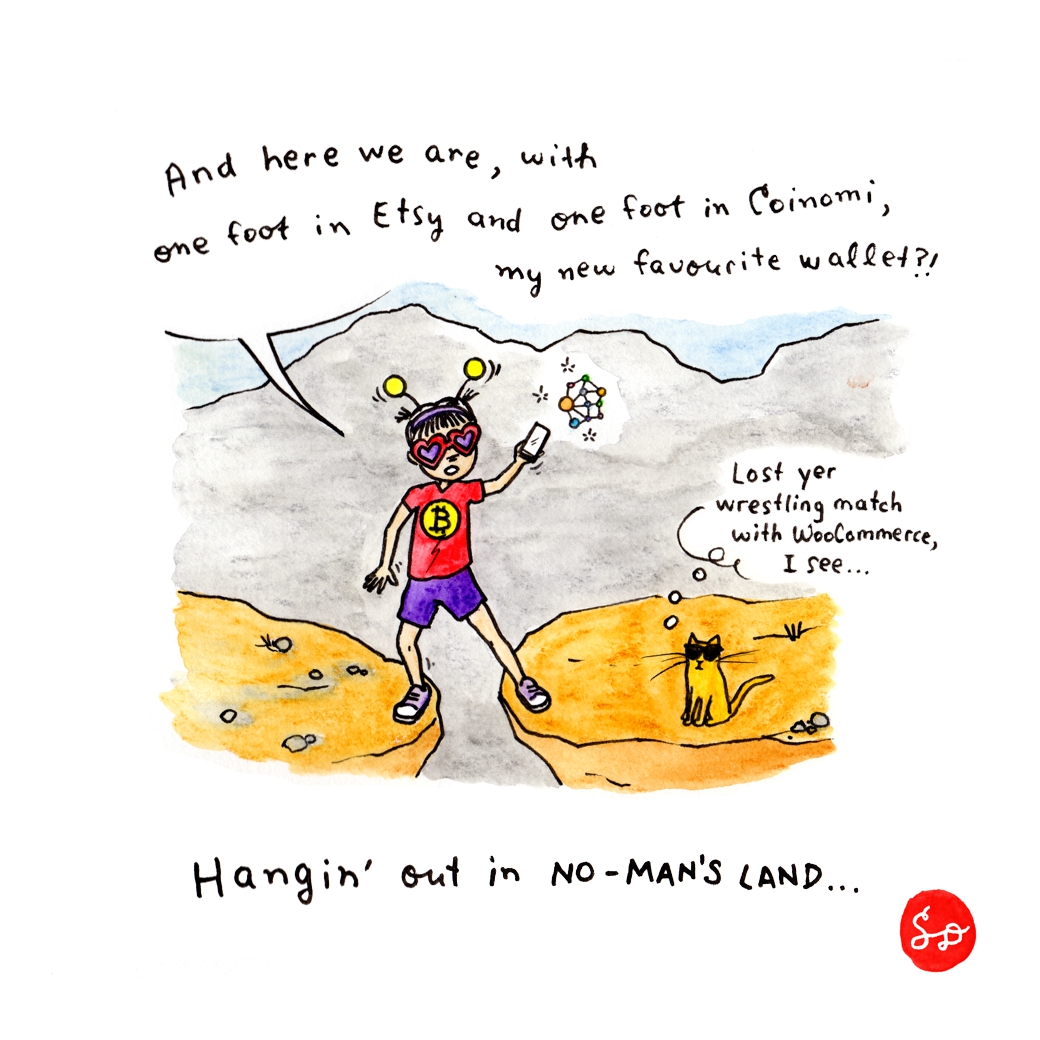 Finally, Satoshi Doodles has a shop!
But, I lost my wrestling match with Woocommerce and various plug-ins.
It turns out, I should have gone the pragmatic route 18 months ago and simply set up an Etsy while accepting BSV payments manually. The current strategy is working nicely, as the fiat payments (minus Etsy fees) cover most of the shipping costs and I don't need to pay highway robbery-type fees to an exchange.
This is not my first rodeo.
I once set up a "crypto" shop on a platform that rhymes with Hopin' Bizarre. This was before the BCH-BSV split. It's a week of my life that I'll chalk up to experience. It was not easy to accept payments, despite the friendly help from technical support. Something about ports and being online basically at all times. I think the success rate for payments was better than the current state of the Lightning Network, but it was still very challenging to connect with customers. One particular customer, who shall not be named, was kind enough to spend 45 minutes on chat with me, troubleshooting and trying to connect to make a purchase. I will always have a soft spot in my heart for that one dedicated customer.
In contrast, this Etsy shop took about an hour to get running (I already had the shipping and handling costs calculated for various numbers of calendars.) The listing details include instructions on emailing for payment via BSV.
The Etsy user interface for sellers is pretty easy to figure out, and there's a comprehensive "help" resource with FAQs.
And then I realized that in order to accept BSV payments manually (by messaging or email), I had to wrap my head around how to track orders. It would be helpful for payments to include an order number in the memo field (if the wallet allows for a memo). However, it is unreasonable to expect all customers to remember to do such a thing upon payment, from their end. It turns out that the Coinomi wallet allows for individual address payment requests (which I can label individually, before sending each request, using the memo feature), along with some other features that can enhance privacy, like marking those addresses as do-not-spend.
My first bunch of customers are all BSV nerds (I say that as a good thing) and had no problem figuring out what do to when presented with an address for payment. And then they kindly replied with a screenshot confirmation or the transaction i.d. which is definitely not something a typical customer would be doing whatsoever.
So that's the no-man's land that I find myself straddling at the moment.
p.s. I'm working out a way to get a bunch of SD 2021 calendars to Australia, so will let you know as soon as they're available there with better shipping rates. In the meantime, if you're super keen, you can still order on Etsy or by email. 🙂